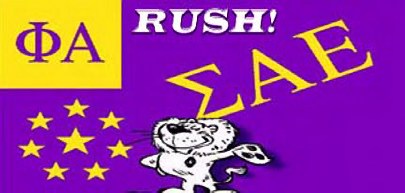 WHY GO GREEK?
Greeks excel in Scholarship

Greeks consistently achieve higher scholarship ratings than the all campus average

Greeks have a 10% higher rate of graduation than do non-Greeks
Greek membership is affordable

Room and board is comparable, sometimes even lower than college or university charges
Greeks Achieve

70% of those listed in "Who's Who in America" are Greek

85% of the upper-level executives in the "Fortune 500 Companies" are Greek

43 CEO's of the top 50 companies are Greek
Greeks Lead

75% of the members of the U.S. Congress are Greek

85% of the U.S. Supreme Court Justices this century are/were Greek

100% of 158 of those who have served on the President's Cabinet this century are/were Greek

All but 3 of the U.S. Presidents since 1825 have been Greek
Greeks Give

As Alumni, Greeks give approximately 75% of all money donated to universities

As undergraduates, Greeks raise approximately 7 million dollars per year for charities

As undergraduates, Greeks give approximately 850,000 volunteer hours per year
WHY SIGMA ALPHA EPSILON FRATERNITY?
Why should you join Sigma Alpha Epsilon?
Here are three great reasons:
Leadership: It is well known that fraternity members enjoy a much higher
involvement in campus and community life than non-fraternity members. Holding an office in the local chapter is a great experience involving working with a group, and in innovative thinking and problem solving. There is a reason that Greeks enjoy holding 85% of the upper-level executive positions in the "Fortune 500 Companies", and that is because of their experiences they are better qualified in working with people and delegating authority. The Sigma Alpha Epsilon pledge program is designed to help nurture and develop the leadership potential in all of our potential members. Annually SAE hosts a national leadership conference in Chicago which is open to members from all of our 206 chapters around the country.
Scholarship: A study by the Department of Health and Welfare has concluded that "Fraternity membership has been clearly associated with persistence to graduation." Hundreds of SAE brothers are currently participating in the student loan program through the national fraternity. Our foundation also sponsors the Residential Educational Advisor Program, which employs graduate students to serve as educational advisors in our chapters.
Fraternity: brotherhood is the main concept of a fraternity. Some may think that it is just a fun thing to do for four years, while it is, they do not appreciate the fact that when one joins, they join for life. Our over 175 Alumni chapters in the country should be testament to that fact. When in a fraternity, the ties of friendship are usually much stronger than those formed just by living in a residence hall. SAE has had over 245,000 members initiated. How would you like to be next?